Seymour L. Schnuer
Company "L", 377th Infantry Regiment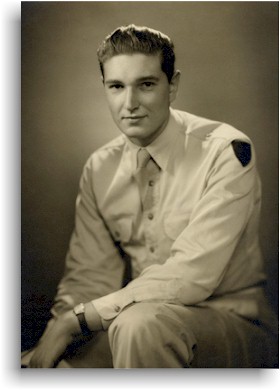 On July 5, 1943, Seymour Schnuer enlisted in the US Army in order to not to be drafted. He was originally sent to the "Tank Destroyers" and was later enrolled in the ASTP program. When the program was discontinued, he was sent to the Mechanized Cavalry in a light tank.

Because of his six foot 2 inch height, it was very difficult for him to sit down suitably inside the light tank to which he was assigned. After two weeks the Captain arranged all his men in order of size and sent the four tallest to the Military Police in Fort Sam Houston, Texas. Seymour Schnuer was in this group.

Quickly, he become a Sergeant and was responsible for the traffic and the safety of the

Fort. He had at his disposal a jeep and a driver. One day, a car with a flag of a Brigadier General was parked in a 'No Parking' zone' He questioned the Corporal who was the driver of the vehicle. This man said that his General was in the PX and that he had to wait for him there, it should be only a few minutes. Seymour Schnuer accepted this excuse for a short duration. However thirty minutes later, he returned and found the car still parked at the same place. He then advised the soldier to park his vehicle in an authorized zone, but the soldier said that he must obey the order of his General. After having made a second, then a third thirty minute tour later, the car still had not moved away. Seymour Schnuer then decided to issue a parking citation. Hardly half an hour later, he was met at the HQ where his Captain, his Lieutenant and a Major from the General's staff awaited him. The Captain showed him part of the citation, which he had written and asked for the second half of the document to destroy it... He explained why this General had just returned from North Africa and was not used to respecting 'No Parking' rules. Seymour said that it was not marked 'No Parking except for Generals' and that he felt that he had to enforce the rules the same for a General as for a Private.

The following day, his excuses were denied and he was busted to Private. He then asked the Captain to transfer him from the Military Police to another branch of service. He was then designated as a volunteer for the infantry.

After several forts and training centers, he left for England where he remained for a short time while waiting for his embarkation to France.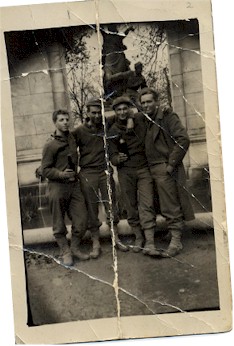 Finally, the day arrived and they embarked on a Belgian ship named Leopoldville. The crew was Belgian, the officers British, and the engine crew were blacks from the Congo. Eventually, he was delivered to Omaha Beach in France.
After several days of waiting, he moved to Le Mans. From there, they were put into French boxcars called '40 men or 8 horses' and crossed France. They make a stop in Chartres where Seymour Schnuer and three of his friends pose in front of a statue. (Picture on opposite).
They then boarded trucks and passed through Orleans where the local people greeted them with wine and flowers. They continued on the road to the East of France where they received their assignments. Schnuer was assigned to the 95th Infantry Division. On November 11, 1944, he was in Conflans-Jarny where a ceremony took place with French veterans of the First World War, celebrating the end of that war. He arrived in Nancy then went around Metz to arrive in Maizières-lès-Metz.
On November 16, his unit approached Metz while skirting the Moselle. Within about 10 km of the city (sector La Maxe - Woippy), German tanks on the other bank opened fire, wounding several GI's. Among them, a comrade of Seymour Schnuer from Puerto Rico was shot in his arm. Seymour, who had taken two years of Spanish in High School, had befriended this soldier. He then gave him first aid and in order to draw the attention of the medics, he planted the man's rifle in the ground, and tied a handkerchief to it.
He tried to catch up with the rest of his unit but the German tanks on the opposite bank opened fire. An 88mm shell exploded just behind him, blowing him into a small creek. When he returned to consciousness, he noticed that he had been wounded in the arm and that two of his comrades were with him. One was wounded in the leg, the other was dead. They administered first aid to themselves and waited for it to become dark. They then went to a farm building not far from there and found an artillery spotter who called for the medics. They were then evacuated to a school in Verdun, which had become a hospital.
A comrade from his squad, slightly wounded, made the rounds of the

rooms

to see whether any friends were there. He found Seymour and told him that at the time when he was wounded, only three of the eleven men of his squad were still unwounded and fighting. He then received a Purple Heart and a Bronze Star, probably for his action with the soldier from Puerto Rico.

He was then evacuated by plane to England. After many operations, his arm was saved but he lost his dexterity. One day, he learned that he had five minutes to prepare to leave to board a plane for the United States He arrived at a hospital in Atlantic City, New Jersey, his home state.

After several operations, he was discharged in the Spring of 1946.

After the war, he re-entered Rensselaer Polytechnic Institute where he obtained a degree in Engineering. He worked for the General Electric Company and traversed the whole world selling power stations.

Today, Seymour Schnuer lives near Boston, Massachusetts in a peaceful house right on a lake...

Above :

Bronze Star awarded to Seymour Schnuer for his action on November 16, 1944.

Donation of Seymour L. Schnuer
Above : Class "A" Jacket in wool and having belonged to Seymour L Schnuer. Donation of Seymour L. Schnuer
I want to thank Seymour L. Schnuer for the use of his photographs and documents.