Francis X. Hoelscher
Company "L", 378th Infantry Regiment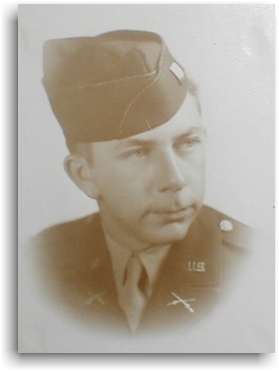 Francis X. (Pete) Hoelscher was drafted into the US Army in June 1941 from his home town of Dayton Ohio for a period of one year. At the outbreak of WWII in Dec 1941 he was extended indefinitely for the duration of the war. After serving as an enlisted member for an additional 8 months, he entered Officer Candidate School (OCS) at Ft Benning GA in September 1942, graduating in December 1942. He was commissioned a Second Lieutenant (Reserve), US Army in December 1942 and shortly thereafter assigned to the 378th Infantry Regiment, Co L of the Third Battalion, 95th Infantry Division. He was the Third Platoon Leader. He entered the ETO in September 1944 and was engaged in the Ardennes Alsace Campaign.
During this campaign he received two wounds; the first, near Metz, was from a piece of grenade shrapnel on or about 18 Nov 1944 as Platoon Leader of the third Platoon, Co L, 378th Infantry Regiment, 95th Infantry Division. He was subsequently reassigned as temporary Platoon Leader for the Second Platoon when Lieutenant Aigner was wounded and received his second wound, a stomach bullet wound, on 7 Dec 1944 late in the day in a house in Ensdorf Germany (Ulsaker, Schlitz, memoirs). He was evacuated from the German side of the Saar River after midnight on the 8th and carried on a door by four German POWs through enemy shell fire across an 800 yard open plain to the river to complete his evacuation to an aid station.
This second wound was near fatal and ended his operations in the ETO. After recuperating for several months in England he was shipped home and subsequently received his discharge and transfer to the inactive US Army Reserve in January 1946.
| | |
| --- | --- |
| | On the left : The 95th Division patch, medals, dogtags and ranks of Francis X. Hoelscher. |
I want to thank Colonel James F. Hoelscher, USAF (RET), son of Francis X. Hoelscher for the use of his photographs and documents.