Presentation of the project officer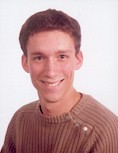 My name is Mathieu Gitzhofer and I live in Le Ban-Saint-Martin, a suburb of Metz, freed by the 378th Infantry Regiment of the 95th Infantry Division in the middle of the month of November 1944. I am currently 20 years old; undoubtedly the same age as many of the GI's were when they fought in France for our Liberation.
Although I don't have anybody in my family who's in the army, I have been interested by "khaki" since I was 7 years old. It was around my 14th birthday that I started more particularly to be interested in the American Army, the army that liberated my country 60 years ago.After having carried out historical research, looked at many photographs of that time, I concluded that the 95th Division was the division to which I owed the most respect: It was this Division that had taken part in the combat of my region, at the price of heavy casualties. This idea was confirmed when I was in the American Cemetery of Saint-Avold where I observed thousands of graves which were engraved with the names of many soldiers of the 95th ID. I said to myself that I must honor this Division, these men; for all that they had done. It is, without any doubt, thanks to them, that I owe my freedom today.
Les célébrations pour la Libération de Metz en Novembre 1999, me permirent de rencontrer pour la première fois des vétérans américains. (Ceo E. Bauer, Stephen J. Bodnar, Anthony Vittiglio...).
The celebrations for the Liberation of Metz in November 1999, were for me a great opportunity to establish, for the first time, bonds with some American veterans (including George E. Bauer, Stephen J. Bodnar, Anthony Vittiglio and others.). I'm actually member of the Association Thanks GIs.
In November 2004, a delegation of veterans returned to France to take part in the commemorations of the 60th anniversary of the Liberation of Metz and the Moselle River Area. A few times before, I had been in contact with Seymour Schnuer (a veteran of Company 'L'' 377th Inf. Reg.) This commemoration enabled me to meet him in person.
In August 2005, Seymour Schnuer invited me to visit with him for more than 2 weeks in the USA in order to visit the East Coast of the United States. He taught me some of the History of his country (War of independence, Civil War etc.).
During this trip, we went to the 56th Annual Reunion of the 95th Infantry Division where I met a considerable number of veterans, plus many children and grandchildren of veterans.
After my return to France, my intention to perpetuate the memory of this Division was stronger than ever. To make an Internet site worthy of all these cordial people an idea came me...
Mathieu GITZHOFER